High Density Filing Installation
Smartspace Certified
CPI was one of the first Holga (today known as Smartspace) certified installers in the Bay Area in early 1990s. Over the years, we have added other mobile aisle and high density filing systems such as Elecompack, Datum, Richards-Wilcox, and Montel to our resume.
Our hi-density team of installers is trained to use a transit with tripod to precisely measure and level mobile file units down to the millimeter. In addition to our superior leveling techniques, CPI installers are able to floor anchor mobile file units to meet seismic requirements, and to grout the track in place for a permanent installation.
Our most recent filing projects include but are not limited to
A hi-density Smartspace file unit for Humboldt County District Attorney's Office in Eureka
A hi-density Montel unit for San Francisco D.A.'s Office
A Smartspace unit for Mountainview BMW
Another for Pebble Beach Golf Course
An Elecompack hi-density unit for the Davis, Wright, and Tremayne in San Francisco
A Richards Wilcox hi-density unit for Redwood Regional Medical Group in Santa Rosa
A Datum hi-density unit for Pisenti and Brinker in Petaluma.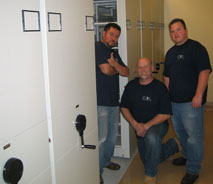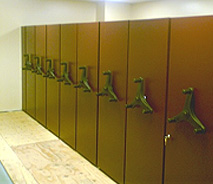 "Your crew was great. I was very impressed with their ability to communicate not only the facts of the installation, but suggestions on making the installation run more smoothly. Their pace was eager, yet not rushed. It was refreshing to see a crew work as if they owned the company. And I guess they do - I recall you mentioning profit sharing.
You guys are a great team. I felt extremely comfortable leaving the project in the hands of your crew.
"
—Robert Ramirez
Oficina Business Interiors